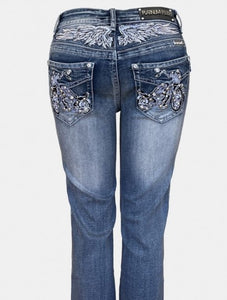 IN STOCK READY TO SHIP!

Stunning Angel wing Rhinestone Jeans!!  Great to stand out in a crowd. Inseam is 32 inches and the sizing is Junior cut so if you are wearing women sizes, go up a size, for instance if you wear a size 10 in women's, you would be a 11 in junior cut style, also check out our sizing guide.
If you have any questions please feel free to call 810-429-0059. 
Thank you Jill